Best Days of the Week to Trade Forex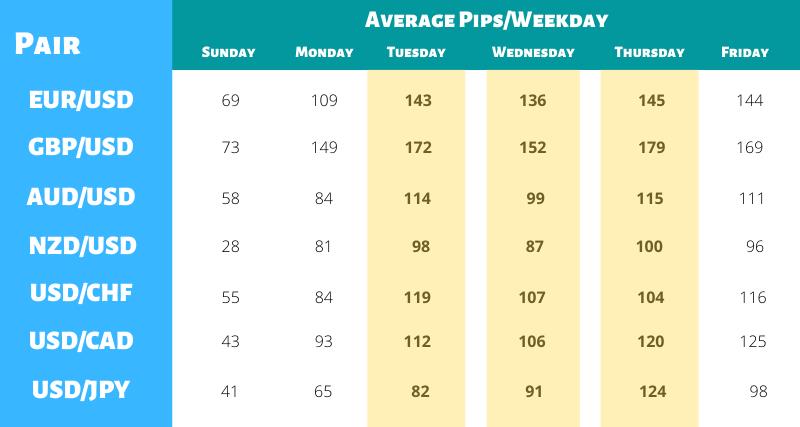 Forex allows us to trade 5.5 days a week, including Sunday, but that does not mean that every day gives an equal trading opportunity. Some days are more desirable to trade, in terms of volume and pip range, while others are less desirable.

As you can see from the image above, the rule of thumb regarding the days of the week with a higher average pip range are the middle days. So, the best days of the week to trade Forex are Tuesday, Wednesday and Thursday, when the pairs receive the most action. So, if you want to trade just three days a week, these would be the best days.
Days to be Cautious About When Trading Forex
Sunday: This is the day when everyone is still enjoying their weekend, so don't expect much movement here, unless there has been a critical news announcement during the weekend. Sometimes there are trends continuation or reversals happen on Sunday, depending on what had happened at the end of Friday.

Monday: Though trading has been underway since Sunday, Monday still represents less of a pip-range than the middle three days. It is still early week and traders are still waiting for the economic news and numbers to come out during the week. You can trade Monday as it can be still very profitable and you don't want to miss out on the beginning of a move. But watch out for corrective moves against the main trend on Monday that later get reined in by Tuesday or Wednesday. These can lead to false trades.

Friday: This is virtual half-day because trading is busy until 12:00 pm EST and then nearly dies down in activity until it closes at 5:00 pm EST. There are still trading opportunities that can be found during the first half of Friday. But one should be on guard: this can be the day of reversals from the main trend. Be particularly on guard the second half of Friday, as the volume can drop way down, causing spreads to greatly increase.
Other Days you Should be Cautious of:
Non-Farm Payrolls report release — occurs the first Friday of every month at 8:30 AM EST. This can be an extremely volatile time to trade, and subsequent whipsaw moves can damage many open positions with stops that trade at this time.

Major News Events — these could be the speeches of Fed chairman, acts of war or terrorism. These days can be so volatile that you can be whipsawed.

Holidays (especially major holidays like July 4th, Thanksgiving, Christmas eve and New Year eve) – all the big money traders are on holiday, so don't expect the market to move. It generally moves sideways during these times.